CW: Eating disorders and body-shaming
In this Subway commercial, we have three coworkers, two female and one male. One of the women asks how her companions could be eating burgers. The other woman replies that it's no longer summer, so they can eat what they want. First woman informs them that no, they must continue to try to keep their weight low because Halloween demands tons of "sexy" costumes from women. 
There are two different ideas at play here, and they intersect in interesting ways. 
In order to wear sexy costumes, you must be a certain size or weight. 

It's Halloween, and for women, costumes must be sexy. 
Let's start with the first one. 
In advertising, we already have lots of seasonal campaigns that capitalize on the idea that you must lose weight for certain periods of time. Around New Year's Eve, food and diet companies hit hard on New Year's Resolutions. A few months later, commercials encourage you to diet in order to get a "bikini body" in time for summer. The only time corporations want you to eat without reservations is Thanksgiving and Christmas seasons, apparently, and probably only because they know it's better for you to eat and feel guilty, then flock to their products, then to try to stop you from enjoying the holidays and the food traditions that go with it. 
In a way, it's kind of brilliant to take advantage of women's insecurities by extending the seasons in which we need to diet. And by brilliant, I mean completely nefarious. But there's one important message that is being conveyed by this commercial: only certain types of bodies can wear "sexy" outfits, like bikinis and "sexy" Halloween costumes. And that type of body is thin. 
When you tell your audience that they must be thin to wear sexy costumes, you are shaming larger bodies. You are saying that large women (and other genders) cannot be sexy simply because they are large. 
Of course, this isn't a new idea. The media has been pushing this message on audiences for years, whether it's by labeling average-sized models as "plus-sized," or by photoshopping slices off of model and celebrity bodies in magazines, or by having most of mainstream Hollywood look a certain size (while relegating larger actors to tropes revolving around their weight). 
New or not, the same phenomenon happens: we begin to believe that fat bodies are never attractive, which eventually evolves to fat bodies do not deserve to be attractive. This comes from the idea that larger people are only the size they are because they are lazy or undisciplined …. which diet advertisements definitely contribute to. After all, if you had only eaten Subway sandwiches instead of whatever wrong food you ate, you'd be skinny, right? 
The truth is, size does not determine attractiveness, or worthiness of attractiveness. Size definitely doesn't determine if someone is lazy or undisciplined or unhealthy.
And you absolutely do not have to be a certain size in order to wear a Halloween costume (or bikini). If a large woman wants to dress as a "foxy fullback," she has every right to.
Moving on to point #2.
Recent years have given way to another ludicrous phenomenon: the sexy Halloween costumes.
It's not just that there are more sexy Halloween costumes. It's that every regular costume has a ridiculous "sexy" pairing; the "regular" ones are usually marketed for men while the "sexy" ones are targeted at women.
Sexy Scooby-Doo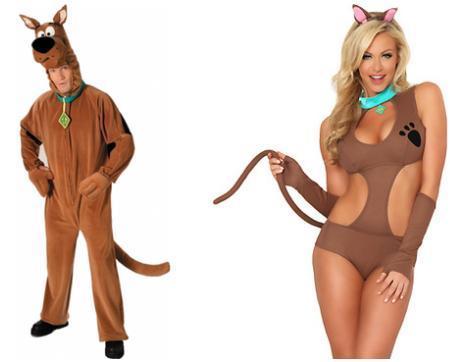 Sexy Bacon
Sexy Lumberjack
And it starts younger and younger, and suddenly skeleton costumes are no longer gender neutral for boys and girls, but needs to be feminized and sexualized:
For more examples of sexist Halloween costumes, check out this Tumblr. 
There's nothing wrong with having sexy versions of Halloween costumes. For many individual women, it can be a chance to show creativity, have a unique costume idea, and even experiment a little with their sexuality in a way that they feel comfortable. It may be that many women use Halloween as a time to help them feel sexy, and there's nothing wrong with that.
The wrong part happens when costumes aren't marketed as "regular" and "sexy," but as "male" and female." The wrong part happens when it's difficult for women to find Halloween costumes that are made for them but not sexy. And it's absolutely wrong to start sexualizing Halloween costumes for children. With this commercial, Subway is contributing to the idea that Halloween is a time when women must dress provocatively, that instead of dressing up in costumes that are fun, creative, or spooky, they should be dressing in a way that makes them appealing to men. That point is emphasized by the joke at the end of the commercial, in which the sole man dresses up as a Viking to go along with the woman's Viking Princess Costume, and he requests to see her wear that one again.
These two arguments might seem kind of confusing. First I'm saying that women of all body types should be able to wear sexy outfits if they want to, then I'm saying it's wrong for Subway to push sexy outfits on women. Here's the bottom line: all women (and men) should dress the way they want to without feeling outside pressures, such as advertisements, telling them how to dress. If they want to dress sexy, they should be able to without feeling shame. And if they don't want to, they should also be able to without feeling shame!
No matter what your size or Halloween costume sexiness levels, have a happy and safe Halloween!